UPDATE ON OILER CIRCUIT FINALS:
Circuit finals will now be all 3 days at Sweetwater -- October 21, 22, and 23, with one go-round each day and a non-working finals. 5/6 year-old Open and Non Pro have been cancelled for Friday, Oct. 21, to allow more time for dinner on Friday night.
NOTICE:
Club and saddle standings are current through 9/4/22
Due to the cancellation of the November 12-13 show in Amarillo, the following dates at Palo Duro CHA show at Farwell, TX will count for Panhandle standings:
Thursday, November 3, 2022 will be the final show for Derby Open and Derby Non Pro standings.
Saturday, November 5, 2022 will be the final show for all weekend class standings.

Year-end awards banquet will be held in conjunction with Palo Duro CHA at Farwell, TX, on Saturday, November 5, 2022.
2022 BACK-TO-SCHOOL SCHOLARSHIP CUTTING
Congratulations to the winners!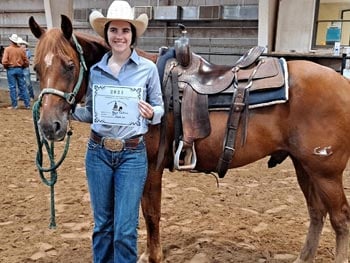 1st - Brea Collier and Weeping Widow with 223.5, earning $1500 scholarship money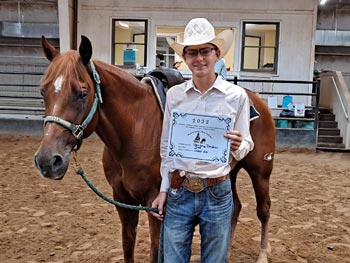 2nd - Sterling Decker and CD Smoothie with 218, earning $1000 scholarship money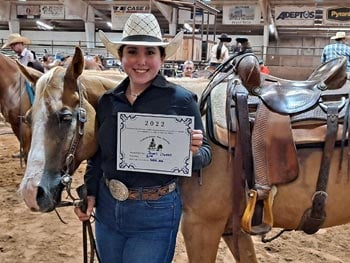 3rd - Jewel Duval and Short Drive with 216, earning a $500 scholarship
Congratulations!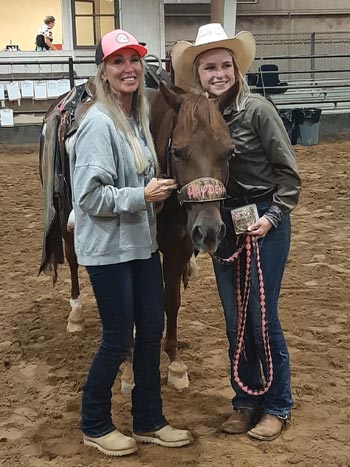 Winning the 5-horse buckle class on Saturday night was Lauren Lasseter, riding Paradox Cat, owned by Shannon Lamb. Shannon, Paradox Cat, and Lauren are pictured receiving the buckle after their winning run, marking a 72.
Check out more buckle winners in our photo gallery!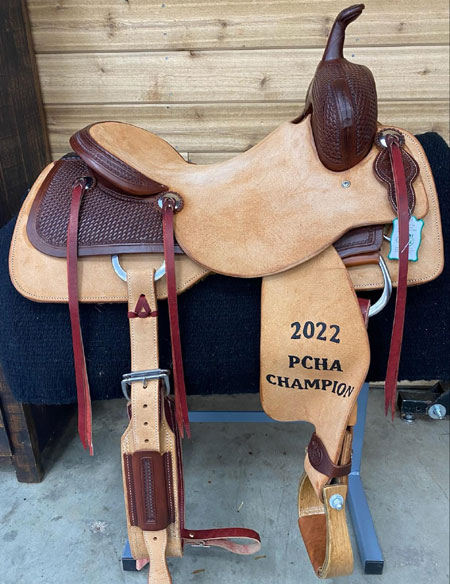 As our 2022 saddle series is coming into the home stretch, we would like to express our sincere thanks to those who have sponsored saddles.
Full saddle sponsors are:
David Christian/11 Ranch Co.
Teryn Muench Performance Horses
Croft County Chevrolet
Co-Saddle Sponsors are:
Skip Jones/Jones Quarter Horses
Summers Cattle Company
Decker Performance Horses
Jim Cogdell Family
Joel & Karen Carson
Wayne & Roxane Banks
If you are interested in sponsoring or co-sponsoring a saddle, please contact Brad Baxter at 806-789-2588, Sherryl Byars at 806-886-1144, or Lee Ann Bates at 620-664-7230.
THANK YOU to our great sponsors!
Our Youth are getting noticed!
Bray Bennett - 2022 NYCHA Jr Scholarship 1st Go Co-Leader
Watch this SNEAK PEEK of an exciting NEW project that will be released in the coming weeks! Don't miss your opportunity to watch NYCHA & Panhandle CHA member Trystan Crow compete on July 25 and August 1 during the upcoming NCHA Great American Insurance Group Summer Cutting Spectacular hosted July 16 through August 5 at the historic Will Rogers Coliseum in Fort Worth, Texas! We are Proud to see another young Panhandle CHA member in the National Spotlight
We love seeing the next generation of legends being made!💫 Check out this video of Justa Scootin Pepto and Zac Corvin from the Bridleless Class at the Panhandle Cutting Horse Association's Show this past weekend during NCHA Weekend! 🎥: Ashley Adams #cuttinghorses #bridlelesscutting #ncha #cowboys #littlecowboy #nchaweekend #nchaweekendwarrior

Posted by National Cutting Horse Association on Monday, June 27, 2022
Please park horse trailers West of Amarillo National Center on gravel surface, rather than on asphalt parking lot in front of the ANC.
For our 2022 Graduating Seniors:
We are happy to be able to offer scholarship funds to assist you with your post-high school education. Funds are awarded through The Opportunity Plan, Inc. on a per semester basis. To apply, please fill out the attached PCHA Scholarship Application and return to Lee Ann Bates, acrskansas@live.com.
---
2022 Show Schedule Has Been Posted.
CLICK HERE TO VIEW.
Current Negative Coggins and Health Papers Required for Check-In at all Shows.
---
2022 SADDLES!
Saddles will be given for 1st place in each class. You must attend 60% of Panhandle CHA shows to qualify for year-end awards.
---
HOST HOTEL: Comfort Inn & Suites, 2101 I-40 East, Amarillo, TX (806) 331-7829
Ask for Angelica for help with reservations.