PLEASE NOTE:
New Working Order for 2000 LR Class: For the remainder of 2021, the 2000 Limit Rider
will be held between the 25K Novice Horse and the 25K NH/NP classes.
BACK-TO-SCHOOL SCHOLARSHIP CUTTING: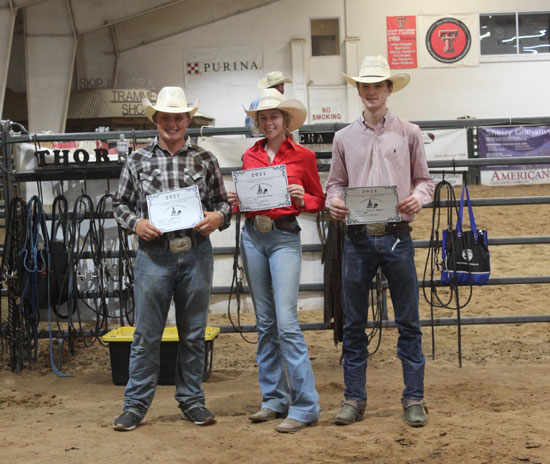 Pictured Left to Right: Wyatt Lewis, 3rd place scholarship winner, $500, Emma Grace Rapp, 1st place scholarship winner, $5000, Owen Cogdell, 2nd place scholarship winner, $1000
We had a great turnout for the Scholarship Cutting at Lubbock, TX on September 3, 4, and 5. We had planned to award 1st, 2nd, and 3rd place scholarships of $1500, $1000, and $500. We got an awesome surprise on Friday when Toby and Mary Crow announced that they would be adding $3500 to the 1st place winner, bringing the 1st place award to a total of $5000! The final results were very close, coming down to a 1 point difference between Emma Rapp and Owen Cogdell for 1st and 2nd place, with Emma having a combined score of 227 and Owen having a combined score of 226. Wyatt Lewis took 3rd place with a combined score of 219.5. Thank you to all the Youth competitors and parents, and to Toby and Mary Crow for their support of the scholarship cutting!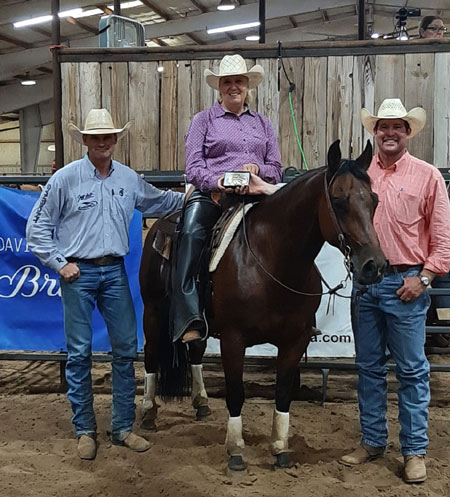 Congratulations to Mary Boyd, winner of the 6/26/21 Buckle Class, riding Travelin Smart Cat.
She is pictured with her trainer, Zeb Corvin, and PCHA board member Richard Hicks.
---
DATE CHANGE FOR OILER CIRCUIT FINALS
Due to date change of the Brazos Bash, the Oiler Circuit Finals have been changed to October 22-24, 2021 at Sweetwater.
---
2021 Tenative Show Schedule Has Been Posted.
CLICK HERE TO VIEW.
Tri-State Fairgrounds Still Requiring Special Check-In Procedures
CLICK TO VIEW CHECK IN PROCEDURES
---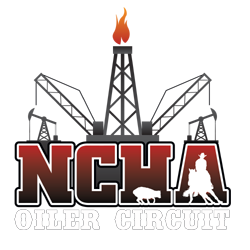 NCHA ANNOUNCES SELECTION FOR THE 2021 NCHA OILER CIRCUIT FINALS
FORT WORTH – The National Cutting Horse Association (NCHA) is excited to announce that the Panhandle, Palo Duro, and Big Country Cutting Horse Associations were selected to produce the 2021 NCHA Oiler Circuit Finals. The Oiler Circuit Finals is scheduled for October 15-17 at the Nolan County Fairgrounds in Sweetwater, Texas.
The Panhandle, Palo Duro, and Big Country associations have all agreed that they are going to make this the best show ever for their members.
The NCHA Oiler Circuit Finals will invite the top 30 competitors from the Oiler Circuit to compete this fall in each of the NCHA weekend classes. For the 2021 event, all youth members who have designated the Oiler Circuit for this point year will be allowed to enter regardless of their place in the year-end standings.
"All three of these affiliates have done an excellent job producing shows across all levels," said Jay Winborn, NCHA executive director. "With Big Country and Palo Duro's successes in the weekend realm and Panhandle's experience in premier events, I have no doubt this is going to be a great event."
For additional information on the National Circuit Program and the most up to date circuit standings, visit nchacutting.com/circuitprogram.

---
Congratulations to our sister club,
Palo Duro CHA,
on being named the 2020 NCHA Affiliate of the Year runner up.
---
SADDLES AGAIN!
Palo Duro CHA & Panhandle CHA are once again joining together to offer saddles in all classes.
You must show in 60% of all shows produced by Palo Duro CHA & 60% of all shows produced by Panhandle CHA.
PCHA dates can be found here. Palo Duro dates are located at palodurocha.com
If you would like to help out as a sponsor for the saddles,
Lee Ann & Cheryl will be happy to accept your donation in any amount.
---
HOST HOTEL: Comfort Inn & Suites, 2101 I-40 East, Amarillo, TX (806) 331-7829
Ask for Angelica for help with reservations.