2nd Annual Back-To-School Scholarship Cutting held in conjunction
with NCHA show September 2 - 4, 2022 in Lubbock, TX.
$3000 total scholarships awarded ($1500 to 1st, $1000 to 2nd, $500 to 3rd)
Must show in Youth class all 3 days.
Combined total scores will be used to determine scholarship placings.
Youth class will be held later in the day on Friday, September 2.

IMPORTANT HOTEL INFORMATION FOR THE LABOR DAY CIRCUIT Sept. 2, 3, and 4
Must book before Sunday, August 21 to get the discounted rate.
You will have to enter your event dates on the site to see the special group rates.
Click here to book your hotel room.
PLEASE NOTE that the 1st Texas Tech football game of the season is in Lubbock that weekend, so you really MUST book your rooms prior to Sunday, August 21, as rooms will go up significantly after that date -- if there are any left at all!
Our Youth are getting noticed!
Bray Bennett - 2022 NYCHA Jr Scholarship 1st Go Co-Leader
Watch this SNEAK PEEK of an exciting NEW project that will be released in the coming weeks! Don't miss your opportunity to watch NYCHA & Panhandle CHA member Trystan Crow compete on July 25 and August 1 during the upcoming NCHA Great American Insurance Group Summer Cutting Spectacular hosted July 16 through August 5 at the historic Will Rogers Coliseum in Fort Worth, Texas! We are Proud to see another young Panhandle CHA member in the National Spotlight
We love seeing the next generation of legends being made!💫 Check out this video of Justa Scootin Pepto and Zac Corvin from the Bridleless Class at the Panhandle Cutting Horse Association's Show this past weekend during NCHA Weekend! 🎥: Ashley Adams #cuttinghorses #bridlelesscutting #ncha #cowboys #littlecowboy #nchaweekend #nchaweekendwarrior

Posted by National Cutting Horse Association on Monday, June 27, 2022
Please park horse trailers West of Amarillo National Center on gravel surface, rather than on asphalt parking lot in front of the ANC.
For our 2022 Graduating Seniors:
We are happy to be able to offer scholarship funds to assist you with your post-high school education. Funds are awarded through The Opportunity Plan, Inc. on a per semester basis. To apply, please fill out the attached PCHA Scholarship Application and return to Lee Ann Bates, acrskansas@live.com.
---
CONGRATULATIONS!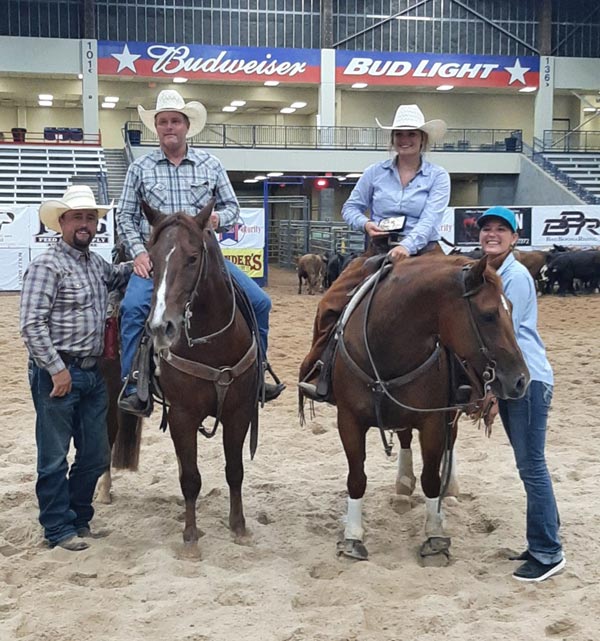 Our August Buckle class winner was Brekken Hoffman, scoring a 72 on Im Countin Katz, owned by Christina Delpozo, to top a field of 9 contestants. These tough beginners are very dedicated cutters, as their class started at approximately 1:00 a.m. on Sunday! Pictured left to right are Brad Baxter, PCHA president; Nate Miller, Brekken's trainer; Brekken Hoffman and Im Countin Katz; and owner Christina Delpozo. Great job by all!
Check out more buckle winners in our photo gallery!
---
2022 Show Schedule Has Been Posted.
CLICK HERE TO VIEW.
Current Negative Coggins and Health Papers Required for Check-In at all Shows.
---
2022 SADDLES!
Saddles will be given for 1st place in each class. You must attend 60% of Panhandle CHA shows to qualify for year-end awards.
---
HOST HOTEL: Comfort Inn & Suites, 2101 I-40 East, Amarillo, TX (806) 331-7829
Ask for Angelica for help with reservations.