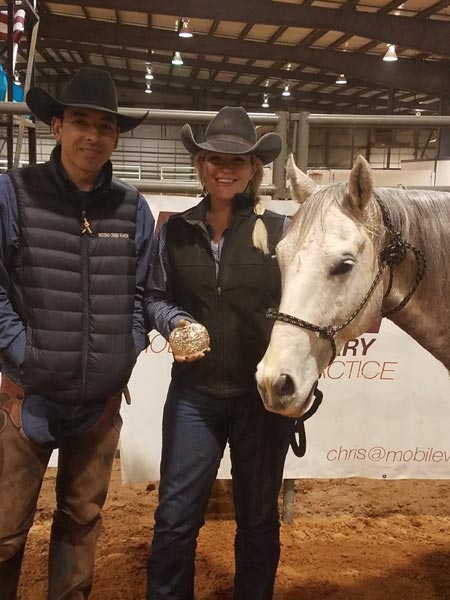 Melissa Sillivent of Sunset, TX rode Pepto Dual Rey to win the buckle class on Jan. 19, 2019 at the Sat. Panhandle show. She is pictured receiving her buckle from board member Abraham Calvillo. Buckle class sponsors for 2019 are Allen Scott, Dan Pearson, Ron Pietrafeso, Kent Courson, Travis Floyd, Trew James, and Mark Pearson.
SADDLES AGAIN!
Palo Duro CHA & Panhandle CHA are once again joining together to offer Jeff Smith saddles in all classes.
You must show in 60% of all shows produced by Palo Duro CHA & 60% of all shows produced by Panhandle CHA.
PCHA dates can be found here. Palo Duro dates are located at palodurocha.com
If you would like to help out as a sponsor for the saddles,
Lee Ann & Cheryl will be happy to accept your donation in any amount.
---
HOST HOTEL: Comfort Inn & Suites, 2101 I-40 East, Amarillo, TX (806) 331-7829
Call to Reserve Rooms by Friday, February 15, 2019 to receive cutting show rates.

2019 Scheduled Shows:
February 23-24 - AQHA Classes- Bill Cody Arena, Amarillo, TX
March 9-10 - AQHA Classes- Bill Cody Arena, Amarillo, TX
April 19-20 (Friday/Saturday show) - AQHA Classes- Bill Cody Arena, Amarillo, TX
May 18-19 (PENDING) - Bill Cody Arena, Amarillo, TX
Aug 3-4 - AQHA Classes- Amarillo National Center, Amarillo, TX
Nov. 9-10 - Bill Cody Arena, Amarillo, TX