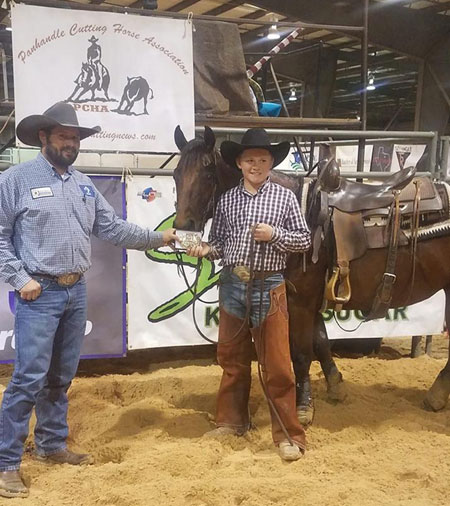 Wyatt Lewis receives his buckle from dad Tyler Lewis. Wyatt marked a 72 to win the buckle class on Sat. night, riding Shortys Lil Cat, owned by the Lowrance Horse Division of San Antonio, TX.
SADDLES AGAIN!
Palo Duro CHA & Panhandle CHA are once again joining together to offer Jeff Smith saddles in all classes.
You must show in 60% of all shows produced by Palo Duro CHA & 60% of all shows produced by Panhandle CHA.
PCHA dates can be found here. Palo Duro dates are located at palodurocha.com
If you would like to help out as a sponsor for the saddles,
Lee Ann & Cheryl will be happy to accept your donation in any amount.
---
HOST HOTEL: Comfort Inn & Suites, 2101 I-40 East, Amarillo, TX (806) 331-7829

2019 Scheduled Shows:
February 23-24 - AQHA Classes- Bill Cody Arena, Amarillo, TX
March 9-10 - AQHA Classes- Bill Cody Arena, Amarillo, TX
April 19-20 (Friday/Saturday show) - AQHA Classes- Bill Cody Arena, Amarillo, TX
Aug 3-4 - AQHA Classes- Amarillo National Center, Amarillo, TX
Nov. 9-10 - Bill Cody Arena, Amarillo, TX